Keep Reading: A Summer Update
As the sun shines and the weekends extend in May, below are some of Jericho's summer book recommendations for park/ deck-chair reading: from cult cycling novel The Rider, to Liaisons Dangereuses, to the Middle East's Sykes-Picot agreement and the Art of Not Falling Apart.
We would also like to celebrate the publication of Sam Conniff Allende's book Be More Pirate: Or How to Take on the World and Win, FT Business Book of the Month. The premise: Pirates didn't just break the rules, they rewrote them. They didn't just reject society, they reinvented it.
With wishes for a wonderful summer and for continued contact and collaboration.
On Dialogue, by David Bohm
Routledge Classics, 2004 – recommended by Neal Lawson.
A book that tells us real dialogue and progress is only made when we understand each other's assumptions, or, as another adage goes: "assumption is the mother of all f**k ups". Bohm proposes listening and learning to underpin a 'creative dialogue' for teasing out and solving the complexities faced by organisations and society.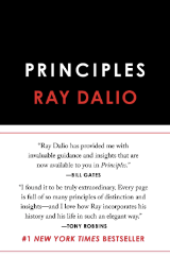 Principles: Life and Work, by Ray Dalio
Simon & Schuster, 2017 – recommended by Filip Matous
From humble beginnings in 1975, Ray Dalio's firm Bridgewater Associates made more money for its clients than any other hedge fund in history.
Dalio attributes his success to a set of unique principles "an idea meritocracy that strives to achieve meaningful work and meaningful relationships through radical transparency." He argues that life, management, economics, and investing can all be systemised into rules and understood like machines. The book shares these.
Be More Pirate: Or How to Take on the World and Win, by Sam Conniff Allende
Penguin Random House, 2018 – recommended by Robert Phillips
Sam Conniff Allende encourages each and every one of us to discover our inner pirate and challenge failed and failing orthodoxies and conventions.
The chapter on what we can learn from the Golden Age of Piracy (c. 1780) on gender and race diversity is particularly compelling. Robert's take-out: "for too long, the wrong sorts of pirates have been running global businesses".
Described by WARC as a "model for a radical new way of organising", "this isn't a book" –according to Tom Goodwin, author of Digital Darwinism –" it's the beginning of a movement. Be More Pirate should come with a health warning".
The Art of Not Falling Apart, by Christina Patterson
Atlantic Books, 2018 – recommended by Christine Armstrong
A book that explores how we feel and respond when life doesn't go as planned. Or, more specifically, when life goes horribly and painfully wrong. Written with humour, determined honesty and breath-taking vulnerability. Reading it feels like a cool breeze after the blazing sun of too many 'how I got to be so spectacularly successful' books. Take it on holiday, revel in the beautiful words, remind yourself to watch, listen and empathise more.
Small is Powerful: Why the Era of Big Government, Big Business and Big Culture is Over, by Adam Lent
Unbound, 2016 – recommended by Becky Holloway
According to Lent (Director of New Local Government Network, former head of RSA's Action and Research Centre), in order to create a fairer and more stable world, we need to correct a mass failure of imagination: bigger is not better.
The book celebrates the 'small' revolution, with the rise of small businesses and the increasing role of small initiatives and campaigns in delivering social change. Lent explores the history of small, focused on building a world where power and resources are shared out much more widely.
Perennial Seller: The Art of Making and Marketing Work that Lasts, by Ryan Holiday
Penguin Random House, 2017 – recommended by Sam Conniff Allende
(Best-selling) author Ryan Holiday's dissections of what makes a book have a lifetime of success, maintaining interest, momentum and impact after the launch. It is also a handbook for anyone interested in what makes a classic, a classic. Relevant to the 2018 launch of Sam's own book…
Les Liaisons Dangereuses, by Pierre Choderlos de Laclos
First published in 1782 – recommended by Theresa Regli (ideally to be read in French)
"Probably not appropriate for the newsletter", Les Liasons Dangereuses is an epistolary novel depicting seduction as a weapon. On other occasions, Theresa sticks to The Economist.
The man who created the Middle East, by Christopher Simon Sykes
William Collins, 2016 – recommended by Andrew Gunn
Christopher Simon Sykes introduces us to his grandfather, diplomat Sir Mark Sykes, the man behind the Sykes-Picot agreement, which is in turn responsible for much of the geography (and therefore conflict) in the current Middle East. It describes the contemporary legacy of the obsolete British, French and Ottoman empires, laying bare regional drivers of war and nationalism.
Origin, by Dan Brown
Transworld Publishers, 2013 – recommended by Rebecca Perrin
A exploration of a self-destructive species, ancient global conspiracies in a neo-medieval setting – and with an AI twist.
The World-Ending Fire: The Essential Wendell Berry, introduced by Paul Kingsnorth.
Penguin Books, 2017 – recommended by Eve Harris
Writing about the importance of 'place', Wendell Berry put his money where his mouth is, quitting a glamorous literary career in New York to return to a smallholding in his native Port Royal, Kentucky. The resultant musings give an entirely new perspective on space – encouraging us to build a new world-map around small, everyday miracles. Wendell's reality rejects the 'abstraction' of towns, cities and countries joined by road, in favour of a deep, visceral connection with the land and the environment. Hypocritical, but enlightening holiday reading for a long-haul flight…
The Rider, by Tim Krabbé
Uitgeverij Bert Bakker (Amsterdam), 1978 – recommended by Matthew Gwyther
A Dutch 'cult' cycling novel first published in 1978 was brought to the English language in 2002. Since then The Rider has exhilarated those both within and without of the lycra-clad community ("non-riders" as Krabbé's narrator calls them "the emptiness of those lives shocks me…" )The plot follows Krabbé's participation in the fictional 'Tour de Mont Aigoual', a one-day race of 137km and 148 pages, which according to The Independent "flash by in a blur of reckless, high-speed pleasure…"
Back at the ranch…
…A number of Jericho projects and coalitions are in full swing. It has been a busy few months.
On the agenda for early summer:
Deeper and challenging explorations on issues of gender and race at work, as part of the Future of Work is Human programme.
An early evening roundtable to examine what constitutes A Strong Economy, building on the April edition of Jericho Times.
Sessions on London Ideas, a new initiative with the Centre for London – supported by Capco – and a celebration of three years of London Essays.
The next step in our Moving the City for Good initiative for Go-Ahead Group – an Open Table event in Oxford on June 18, to take us all beyond the London bubble.
With Nominet we will be hosting a Digital Leaders roundtable exploring what leadership means post-Cambridge Analytica.
The latest in the global series of Responsible Tax roundtables, co-hosted with OECD in Paris, in July, and focused on digital taxation.
… And also some new projects, soon to be announced, again speaking to Big Societal Issues and the Common Good – and helping clients navigate towards meaningful change.
The much-trailed GDPR regulations come into force next week. We will happily continue to send you news, thoughts and articles from Jericho and our various communities. However, if you don't fancy receiving our mailings and materials, you can of course unsubscribe at any time, using the links provided at the end of the e-mails.
Happy reading.
Eve Harris, Editor, Jericho Times
Jericho Chambers, May 2018