We are currently recording Episode 2 of The Trust Delusion podcast and have captured some wonderful insights on trust and leadership from the peerless Margaret Heffernan and Professor Veronica Hope-Hailey, with more contributors to follow. Their thoughts have been thrown into painfully sharp relief by the escalating global crisis surrounding COVID-19.
Margaret warns of "fairytale leaders" – those who consistently make promises they cannot keep and are bemused and disappointed when no-one trusts them when their false promises are broken. Good leaders must be honest about the inevitable difficulties on the journey ahead, especially when they know it's going to be tough. (Presidents and Prime Ministers, please take note). No-one can guarantee a forever-easy ride, which is why ad infinitum commitments to quarter-on-quarter growth/ success/ nirvana are misleading. There are no silver bullets in the real world.
Veronica likewise rails against those leaders, especially CEOs, who live in the "la la land of constantly sunny uplands". Honesty must trump hyperbole. But, for the Professor, leadership has become "a scripted performance art, poorly excused by an obsession with increasing returns and shareholder value." The sleek scripts are written by phalanxes of polished corporate comms. professionals.
***
The Heffernan and Hope-Hailey observations run to the heart of the trust delusion and call for radical honesty and transparency in business and politics. They point towards the holy trinity of Trust + Purpose + Engagement, each of which has its own set of organising principles and ideas.
Holy Trinity: P is for Purpose
Jericho supports and advocates the Blueprint Five Principles "purpose" framework and encourages its partners and clients to do likewise. Human integrity and the common good are the lodestars for those of us committed to a purposeful future. Recent research, however, reveals that while 90% of companies have a stated (social) purpose, only 61% have an operational plan to deliver it: a troubling gap.
Holy Trinity: T is for Trustworthy
Being trustworthy demands a combination of honesty, competence, reliability and "good", all of which are quickly undermined by self-interest. No organisation can lay claim to a legitimate purpose, if it fails on any of the trustworthiness drivers.
This is the Jericho equation:

The Holy Trinity: E is for Engagement
Likewise, trustworthiness is not attainable without satisfying new, organising principles of public engagement: activism, participation, accountability and dissent.
These principles, chronicled previously, sit at the heart of long-running Jericho programmes on Responsible Tax and Good Work, as well as more recent and upcoming initiatives on Investing in Society curated on behalf of Federated Hermes and the Ethics of Disruption, supported by investment bank Stifel. Jericho's forthcoming project on the future of Public Private Partnerships, currently in incubation, also reflects these values and addresses the vexed issue of trust between business and government.
None of us can learn if we do not listen, especially to those with whom we disagree. And promises are less likely to be broken if robust accountability mechanisms are in place.
Those of us concerned at the depth of the trust delusion in business also warn that we may have reached peak purpose, as we've written elsewhere: "what started as a vital and noble ambition – to realign the needs of society with the responsibilities of business – has been diluted to the point where, for many, corporate purpose is now little more than skin-deep: convenient for CEO keynotes, the Davos playlist and grandiose Vision, Mission & Values statements but not delivering meaningful change and a better society."
***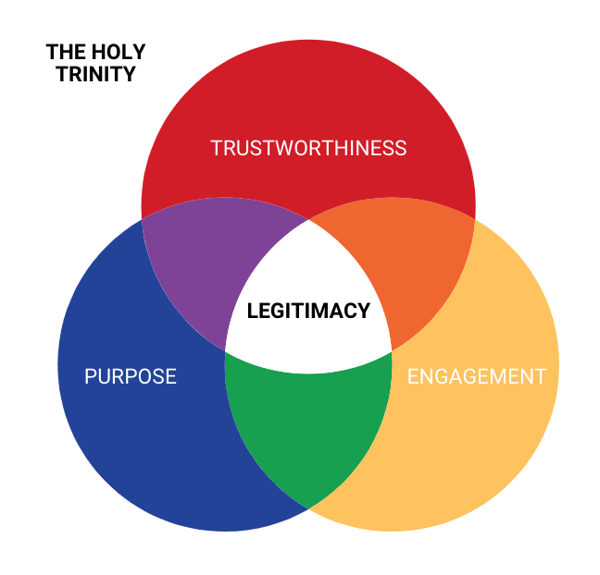 The time has come to call-out fairytale leaders and embrace the holy trinity.
Just as we need to understand the moral responsibilities and choices we hold as leaders, so we should recognise – openly and honestly – that social good and even "responsible" capitalism remain uncomfortable bedfellows. Compromise, as well as consensus, is required and, alongside this, transition strategies to support the shift towards a better society, not least in addressing the climate emergency.
Leaders of today and tomorrow have to be honest with themselves and others of the uncertainties ahead: what is possible, not just what is desirable; where the barriers lie. Long-term security will be undermined by poor decision making in the near-term. What we do is now the only true currency of trust and purpose. Which is again why legitimate engagement is all-important.
A final thought sparked by the latest podcast (scheduled for April release): competence is a much under-rated virtue. As Margaret Heffernan notes: "I would much rather be operated on by a competent heart surgeon, than one who is good at marketing."
It's a prescient observation for these extraordinary and troubling times.
***
If you are facing very real challenges of trust, purpose and/ or engagement, or would like to find out more about what we are doing at Jericho, please drop me a line or get in touch with our Programme Director, Becky Holloway. We appreciate that, collectively, we are now facing issues of unprecedented proportions, where the reverberations are not yet properly understood. Levels of trust in government, experts, fellow citizens, the medical profession and employers will be in inevitable flux for the foreseeable future. What lies ahead is uncertain and uncharted.
Robert Phillips
Jericho Chambers
robert.phillips@jerichochambers.com
March 20, 2020
P.S. As the Coronavirus crisis escalates, like others, we are of course keeping a close eye on advice from the Government and Public Health England that might affect our events and activities. Click here to see the steps we're taking to minimise the impact of the virus on staff, clients and collaborators. Wishing you health and wellbeing during these extraordinary, challenging and uncertain times.